:::
Nicaraguan Universities Visit NCCU to Enhance Academic Partnerships
Edge research
Poster:Ms. Ching-Yi Hsu
╱
Post date:2019-06-25
By Office of International Cooperation
Senior officials from Universidad Nacional Autónoma de Nicaragua (UNAN) and Universidad Católica Redemptoris Máter (UNICA) were invited by the Ministry of Foreign Affairs to learn more about Taiwan's higher education climate. Representing 58 universities in Nicaragua, rectors Ramona Rodriguez of UNAN and Michelle Rivas of UNICA met with NCCU President Ming-Cheng Kuo (郭明政) and visited the Higher Education Evaluation and Accreditation Council of Taiwan.
Established in 1812, Universidad Nacional Autónoma de Nicaragua is the oldest university in Central American country and the last one built by Spain during its colonial period in the continent. In 1947, it was designated a national university and became part of the higher education system. Almost a century after, Cardinal Miguel Obando y Bravo, then Archbishop of Managua founded the Universidad Católica Redemptoris Máter in 1992. Despite differences in age, sectors, and orientations, both schools are outstanding educational institutions in Nicaragua.
In 2012, NCCU signed a memorandum of agreement with UNAN, but it had not been explored to its fullest potential. Ms. Rodriguez acknowledged that Taiwan has greatly contributed to Nicaragua's development with its abundant resources. Therefore, it is beneficial for both universities to bring back student exchange programs and enhance academic partnerships in further developing diplomatic ties. Ms. Rivas of UNICA added that the universities should endeavor to strengthen youth interaction between the two countries, fostering not only political cooperation but also cultural and business-driven collaboration.
President Kuo is positive towards this future possibility. Aside from completing their academic studies, he believes that Nicaraguan students come to Taiwan for language and cultural immersion as well. They can learn not only from their professors in the classroom but more so from the entire Taiwanese society. President Kuo pointed out the rising importance of being able to speak Chinese in the modern world, as China becomes stronger and more influential. Nevertheless, it is advantageous to study in Taiwan, where traditional Chinese cultural heritage has been preserved well.
To realize the vision of academic cooperation, President Kuo promised more scholarships for Nicaraguan exchange students in the future. He also announced that NCCU would launch improved programs to provide a unique and professional Chinese-learning environment for foreign students.
By sharing their thoughts and experiences on better implementation of higher education programs, NCCU officials and the delegation from UNAN and UNICA planted the seeds for mutually beneficial partnerships and watered the blossoming trust between Taiwan and Nicaragua.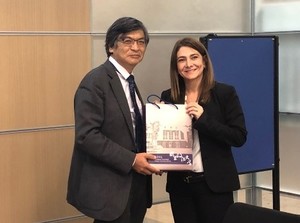 President Kuo (left) with Rector Rodriguez
President Kuo with Rector Rivas
exchanging

(right) exchanging gifts. (Photo by Office of
gifts.(Photo by Office of
International Cooperation)

International Cooperation)
Last modification time:2020-04-27 AM 11:18