:::
New partnership with new but promising University in Indonesia—Pertamina University
Edge research
Poster:Ms. Ching-Yi Hsu
╱
Post date:2018-11-13
By Christian Schoppmeyer

Delegation of Pertamina University – one of Indonesia's youngest institutions of higher education – has made their second visit to National Chengchi University on November 2. Rector Prof. Dr. Akhmaloka, also former Rector of Bandung Institute of Technology from 2010-2015, and Vice Rector for Research, Development and Partnership Dr. Budi Soetjipto had initiated the discussions on cooperation with NCCU earlier this May. Thus, the basis for an agreement and plans on collaborative activities had already been formed prior to the representatives' arrival on campus this time. Both sides signed Memorandum of Understanding and Addendum following a final round of fruitful discussions.

Pertamina University has been established by Indonesia's state-owned oil and natural gas corporation with the same name (PT Pertamina) just 2 years ago. The enterprise is globally well known and among Indonesia's most wealthy businesses. Given the importance and wide influence of its eponym, Pertamina University is therefore equipped with strong connections to companies active in the fields of shipping, hospitality, oil production and health care. This, in turn, ultimately benefits its student body through ample internship opportunities.

During the meeting, President Chow highlighted that NCCU is particularly interested in establishing partnerships with distinguished universities from Southeast Asia, also aligning with Taiwan's New Southbound Policy. Rector Prof. Dr. Akhmaloka, on the other hand, pointed out that his students show exceptionally great interest in engaging in studying abroad. Deeming NCCU to be an excellent cooperation partner, Pertamina University sees a variety of activities and projects in which both institutions could join forces.

The meeting with Pertamina University was abounding in concrete plans and cooperation projects. The first central element thereby represents student and faculty exchange. Yet, in response to Rector Akhmaloka's ambition to create an international campus for his students and the foreseen demand for his students to exchange to NCCU, the usual quota of two students per semester has been raised to five.

The second pillar of cooperation is represented by allying in organizing the joint conference of the Asia Academy of Management (AAOM) and the Taiwan Academy of Management (TAOM) in Bali next year. Besides this major and large-scale international event,

Pertamina University is also the organizer of an ASEAN Summit Simulation for high school students from all over Asia. Principal of NCCU's Affiliated High School, Mr. Chi-dong Chen, who was also present at the meeting, is

excited to have his students participate in the prestigious conference, entitled "Model ASEAN Meeting Universitas Pertamina" (MAM UP) in the future.

With this new partnership, and already concrete collaborations planned, NCCU and Pertamina University are expected to work closely to develop and harvest from dynamic and mutually beneficial cooperation.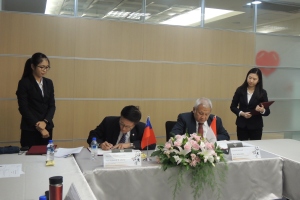 NCCU President Prof. Dr. Edward Chow and
Pertamina University Rector Prof. Dr. Akhmaloka
marks the partnership by signing the MoU and
Addendum. Photo: OIC, NCCU.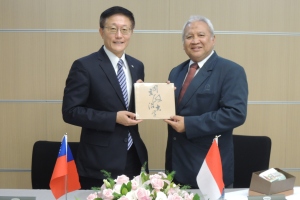 President Edward Chow and Rector Akhmaloka
exchange gifts after the signing of the agreement.
Photo: OIC, NCCU.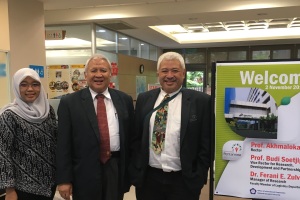 Rector Akhmaloka (middle), Vice Rector Soetjipto
(right), and Manager of Research Zulvia (left), leave
NCCU with smiles, noticeably satisfied with the
outcome of the visit. Photo: OIC, NCCU.
Last modification time:2019-05-03 AM 8:56