:::
KU Leuven & UCLouvain visit NCCU seeking further cooperation
Edge research
Poster:Ms. Ching-Yi Hsu
╱
Post date:2019-06-24
By Office of International Cooperation
Delegations from Belgium's Katholieke Universiteit Leuven (KU Leuven) and Université Catholique de Louvain (UCLouvain) visited National Chengchi University (NCCU) on June 18. KU Leuven Rector Luc Sels and UCL Rector Vincent Blondel met NCCU President Ming-Cheng Kuo (郭明政) to enhance and promote further bilateral academic and research cooperation.
KU Leuven is a research university in the Dutch-speaking town of Leuven in Flanders, Belgium. With an international reputation for excellence in teaching and research in the sciences, engineering, humanities, medicine, law, and social sciences, KU Leuven consistently ranks among the top 100 universities in the world. NCCU and KU Leuven established sister school relations in 2001 and more than 15 NCCU students have since studied at KU Leuven through a bilateral student exchange program.
In 1968, UCLouvain split off from the Catholic University of Leuven and moved to Louvain-la-Neuve in Wallonia, becoming Belgium's largest French-speaking university. With its internationally regarded management school, UCLouvain also frequently ranks among the world's top 50 centers for the study of philosophy and among the top 20 for theology and religious studies. The current exchange program provides NCCU students access to UCLouvain departments including the philosophy, arts at letters, economics, social and political science, and communications, along with the Louvain School of Management. The three schools share a common focus and reputation for research and instruction in the fields of social studies, law, economics, commerce, policy studies, and international affairs.
During the meeting, President Kuo shared his vision of enhancing collaboration in student exchange through the establishment of dual degree programs and expansion of the Erasmus+ program and urged both KU Leuven and UCLouvain to send more students to NCCU.
KU Leuven Rector Sels proposed increasing research collaboration and faculty exchange to help faculty further broaden their cultural and academic horizons.
Having established a clear focus on internationalization, President Kuo proposed expanding opportunities for academic exchange for the university's Belgian partners through NCCU's partnerships with universities in Beijing, Singapore and elsewhere, creating a program in which students enrolled at one university could spend a semester at each campus.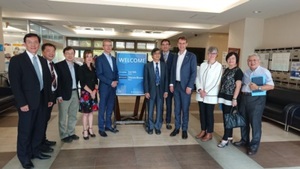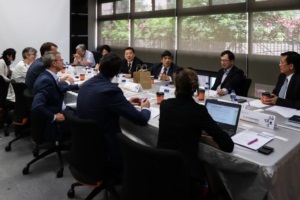 Group photo of the participants. (Photo by
Exchange and discussion on future

Office of International Cooperation)
collaboration. (Photo by Office of International Cooperation)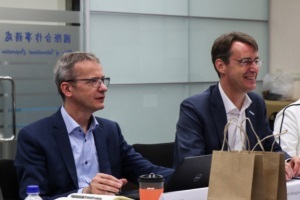 KU Leuven Rector Luc Sels (left) and UC
Louvain Rector Vincent Blondel (right).
(Photo by Office of International Cooperation)
Last modification time:2020-04-27 AM 11:19