:::
2020 NCCU IMBA Information Session Another Year of Success
Edge research
Poster:Ms. Ching-Yi Hsu
╱
Post date:2019-10-31
【IMBA】
The 2020 NCCU International Master of Business Administration (IMBA) program Information Session was held on October 26th. NCCU invited the former director of the IMBA program, Professor Shari Shang, current director Professor Vincent Chen and alumni including Noel Adolfo Tinoco (Alumnus and Former President of the Student Council), Alex Tsai (Regional Sales Manager at QNAP system Inc), and Sichol Boocha (former Assistant Manager at PonBoon Transport Co. Ltd.) to share with prospective students about the benefits of the IMBA program.
During the information session, Professor Chen pointed out various advantages of taking the NCCU IMBA program. He discusses the history of the IMBA program and how its accreditations: AACSB, EQUIS and Partnership in International Management (PIM) can help students achieve their goals of becoming successful global managers. The program also has partnerships with 141 leading schools worldwide with two more to be added this year.
Professor Chen also spoke about the diversity of the IMBA program. Not only the students but also the highly experienced faculty. Many of which in work with leading corporations and have experience in teaching in EMBA programs, and other leading universities from around the world. These professors offer their insights into a well-rounded curriculum in areas such as Management in Asia, Entrepreneurship, Finance, and Marketing. Lastly, Professor Chen encouraged students who have a desire to learn and excel to join the program. Not only as a short-term learning opportunity but to make social contributions and achieve long term goals.
Student Life at NCCU
Noel Adolfo Tinoco, from Nicaragua, was the student of NCCU IMBA in class 2016. He shared about his student life while studying in NCCU. Tinoco said that the opportunity to learn about Taiwan and Asian culture under the umbrella of IMBA was one of his most rewarding experiences. Tinoco agreed that one of the greatest advantages of IMBA is the diversity of students. He spoke about the amazing events organized by the IMBA program and the positive social atmosphere. Finally, Noel spoke about how the IMBA program not only has allowed him to build precious friendships but has also enabled him to find a job as a marketing Communications Manager at GDP Inc. after graduating.
Alex Tsai is a Taiwanese student from the NCCU IMBA class entering 2017. He mentioned that one of the most difficult questions students ask themselves when deciding to enter an MBA program is how to manage work and study. While taking the IMBA program, Tsai also has to work on weekdays and travel frequently to Middle Eastern countries. With a tight study and work schedule, Tsai shared several tips on how to schedule your time while studying. He suggested looking at the courses and having a clear idea of your study plan. He encouraged everyone to challenge themselves and they would be rewarded during their studies!
Sichol Boocha is an alumna from Thailand from the NCCU IMBA class entering in 2017. While in her second year, she had the opportunity to participate in a student exchange at the Vienna University of Economics and Business (WU). She shared about her experiences and how the courses she was able to take allowed her to gain a deeper insight into the competitive landscape of modern industries. While studying at WU, she participated in the cultural program offered by the school and several other extra curriculum activities. These experiences allowed her to expand her global perspectives and to learn to adapt to a different country. Boocha encourages everyone to take the chance to exchange to gain a broader perspective of the world.
NCCU is one of the world-leading business schools that offers students the best study environment and opportunities. Not only does the IMBA program provide a gateway that connects people from around the world, but it is also a great place for students to acquire more professional skills and knowledge. The NCCU IMBA program offers a great opportunity for a bright future and is now open for admission.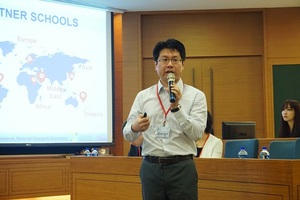 Prospective students show great interest for
IMBA Director Chen gives an introductory

the IMBA program(photo provided by Chia
to Prospective students and welcomes

Ling Jiang)
them to join the IMBA program. (photo
provided by Chia Ling Jiang)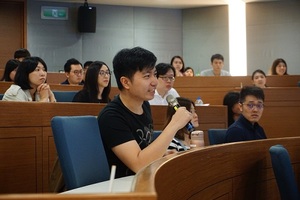 Prospective student actively interacts with
speakers(photo provided by Chia Ling Jiang)
Last modification time:2020-05-04 AM 10:09