:::
Cultivating Global Talents,NCCU Signed International Letter of Intent with Tsukuba & FGV
Edge research
Poster:Ms. Ching-Yi Hsu
╱
Post date:2019-12-02
【Office of International Cooperation】
To promote the cultivation of global talent, on October 2, NCCU signed letters of intent to jointly develop cross-disciplinary courses along with double and triple-degree programs with Japan's Tsukuba University and Brazil's Fundação Getulio Vargas (FGV) University. The signatories included Su Herng, Director of the NCCU Office of International Cooperation, President Masahiro Nagata of Tsukuba University, and Carolina Moehlecke, President of the FGV Institute of International Relations.
Following the ceremony, representatives of the three institutions immediately established a working group to discuss how to establish classes across the schools, credit recognition, group courses, international exchanges, and means of effectively cultivating global talent.
In recent years, NCCU has actively strengthened its international exchanges as part of the school's aim to emerge as an international benchmark for academic excellence. In addition to hosting the Luo Chia-lun International Sinology Lecture Series in November, to better cultivate international-level talent in Sinology and to strengthen collaboration and exchange with global counterparts, NCCU has entered into research and exchange agreements with over 700 prominent universities around the world.
These Academic Cooperation Agreements provide for short-term overseas scholarships, one-tenth of which are currently devoted to international students. Also, NCCU offers over 400 courses taught in English to better enhance international interaction.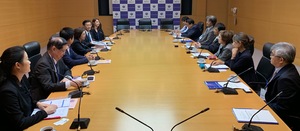 The signatories included Su Herng, Director
of the NCCU Office of International Cooperation,
President Masahiro Nagata of Tsukuba University,
and Carolina Moehlecke, President of the FGV
Institute of International Relations.(Image
provided by OIC)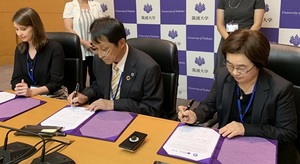 NCCU signed letters of intent with Japan's
Tsukuba University (middle) and Brazil's
Fundação Getulio Vargas (FGV) University
(left)(Image provided by OIC)
Last modification time:2020-05-04 AM 10:10