:::
International College of Innovation Field trip to Taiwan Design Center
Edge research
Poster:Ms. Ching-Yi Hsu
╱
Post date:2021-01-22
【Article by International College of Innovation】
On 01/19/2021, International College of Innovation (ICI) paid a visit to Taipei's Songshan Cultural and Creative Park together to discover Song Yan Court - a place where innovative Taiwanese arts are embraced. The activity took place in the morning with the presence of ICI Professors, students and staff.
The activity was held by ICI Dean Prof. Wen-ling Tu, she believed that this field trip to Song Yan Court would be an amazing chance for ICI students to expand their knowledge about modern innovation and get closer to real life experience apart from academia. Song Yan Court is an arts complex situated in Songshan Cultural and Creative Park. It is run by Taiwan Design Research Institute (TDRI) which includes three institutes: "Taiwan Design Museum", "Not Just Library" and "Design Pin". These three spaces form a square court from the top view of Song Yan Court and display a range of refined and aesthetic designs.
The first destination of the guided tour was "Not just Library". The library was first built by Japanese as a common bathhouse, and then reconstructed by TDRI to become a library. Just like its name, "Not just Library" does not only have a collection of more than 100 design publications and 10,000 books, but also a place where you can find multiple perspectives and inspirational media. The area of the library also extends into a botanic garden with more than a hundred types of trees planted and covered in soil where one's soul can be settled and immersed in the book. You can find books related to design, industry, architecture, fashion and art in "Not just Library".
Next, the students visited Taiwan Design Museum to explore the first specialized museum among Chinese-speaking communities. Here in Taiwan Design Museum, modern design history as well as important design works from home and abroad are showcased. It serves as a place for Taiwanese Design industry to interact, display, experience and promote their latest achievements. ICI students can learn about how to teach arts in education institutes effectively and creatively. They also had a chance to see the exhibition of the Gold Award of well-known Japanese Good Design Award 2020 - the "Renovating Taiwanese Campus Project". This project aims to improve kindergarten to high schools' facilities all around Taiwan so that the students can have a better learning environment. The designers hope that the environment can enable students to change their attitude towards learning and can learn better. Its useful and creative classroom designs excellently surpassed other projects to win the Gold Award last year.
Then, International College of Innovation went to the Golden Pin Design Award 2020 Exhibition: Zone. Established in 1981, Taiwan's Golden Pin Design Award is one of the most influential design awards around the world. The winning designs are showcased at the annual Golden Pin Design Exhibition to promote good designs from Taiwan and around the world to an even wider audience. This year's theme "Zone" is referred to as the new normal keyword for 2020 because we had to practice social distancing. The designs also include various design products which have high sustainability. The students then dropped by Design Pin area to look around the design products used in everyday life.
Thanks to the Open House Taipei event, ICI students could also visit the Taiwan Design Research Institute (TDRI) office and witness the real working environment here. TDRI has been working for more than 17 years and has received many precious prizes and awards within Taiwan and the world design industry including the R.O.C (Taiwan) Presidential Innovation Award 2020. As expected, the research institute working environment is filled with creative designs and friendly working space. TDRI Office was also the final destination of the field trip.
As ICI courses focus on "Innovation" and "Interdisciplinarity," this field trip to Song Yan Court was a very special and meaningful trip to ICI students. Through this experience, ICI students could have a broader view of "Innovation" meaning and how we can apply innovative designs into real life to help our society become better. Students at ICI also have the chance to become volunteers or intern at TDRI or the Arts and Design Industry in the future. Don't forget to pay a visit to Songshan Cultural and Creative Park and Song Yan Court to enjoy the artistic masterpieces and the wonderful environment here!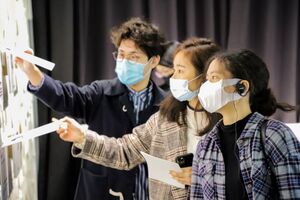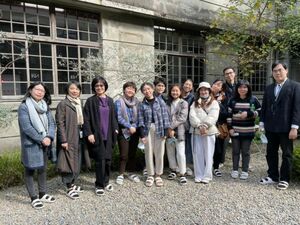 ICI students try out the displaying item.(Photo Dean Tu leads ICI students explore the garden
Source:International College of Innovation) of Not just Library.(Photo Source:International
College of Innovation)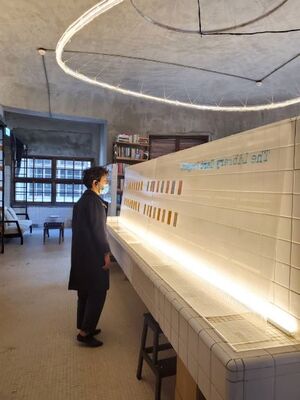 ICI student enjoys the art. (Photo Source:
International College of Innovation)
Last modification time:2021-03-16 PM 2:19